Top 10 Best Indian Restaurants In New York
Now-a-days, besides serving good food, restaurants also serve as places to hold meetings for friends and relatives; and also spending some time alone in privacy. The restaurants also strive to provide world class cusines and comfort. Are you an Indian residing at New York? Do you crave to taste Indian food? Here, we present you with the best Indian restaurants in New York.
150 E 50th St, New York, NY 10022, United States
This is a restaurant that delights you with both Indian and Chinese cuisines. Spice Symphony in Midtown East offers food from many coastal regions of India namely Goa, Konkan, Karwar, Allepy, Madurai, and Kolkata.  Also, they serve you some Chinese food with Indian spices named as Indo-Chinese dishes.
123 W 56th St, New York, NY 10019, United States
Offers traditional dishes prepared in international standard. This restaurant offers dishes from all over India. Beautiful settings and fantastic service make it the most adorable place in New York serving Indian food. Children below 10 years are not allowed in this restaurant.
99 Hudson St, New York, NY 10013, United States
This was earlier known as Tamarind Restaurant which is a home of Indian Cuisine with original Indian flavors. It has a long menu and you can definitely find something that you would like. The executive lunch menu features the taste of Rajasthan! It hosts private events, corporate events and weddings.
246 E 51st St, New York, NY 10022, United States
The name Amma means "mother" in most of the Indian languages. The famous dishes here are idly upma, crispy fried spinach chaat with a sprouted mung bean salad, Bombay bhel puri, pea-stuffed samosa, cheese-and-chile-stuffed mushrooms, Sri Lankan-style tandoori-roasted shrimp, yogurt marinade and Parsi halibut and many others.  Wine list has Australian and New Zealand bottlings!
19 West 24th Street, New York, NY 10010 (212) 490 2100
This restaurant serves authentic Indian food. It prepares all types of Indian cuisine on the international gastronomic stage. Junoon also offers superior wines, both classic and old-world wines!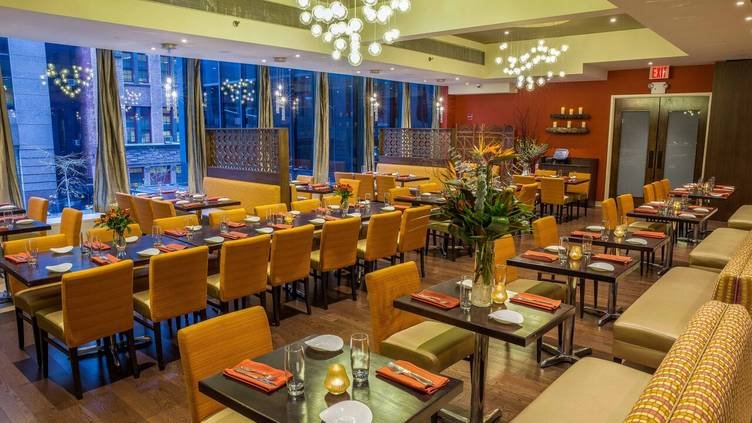 1185 6th Ave, New York, NY 10036, United States
Utsav is a spacious bi level restaurant. There is bar on the lower level and dining on the upper level. You will be offered extensive Indian menu with traditional regional dishes with a modern twist. You will also be offered INDO CHINESE menu. The restaurant can accommodate large groups.
371 W 34th St., New York, NY 10001, United States
Patiala Indian Grill offers you both vegan and non-vegan options. The food is traditional and also very healthy. You also have the carry home option, if you prefer!
81, Lexington Avenue Manhattan, New York – 10016
This is one of the three restaurants of Saravana Bhavan in New York.
You are offered a variety of vegetarian delicious foods prepared under extremely hygienic conditions. The clean environment and affordable pricing will surely make you visit the place again and again. About 350 dishes in 10 categories are prepared and served to the delight of the customers!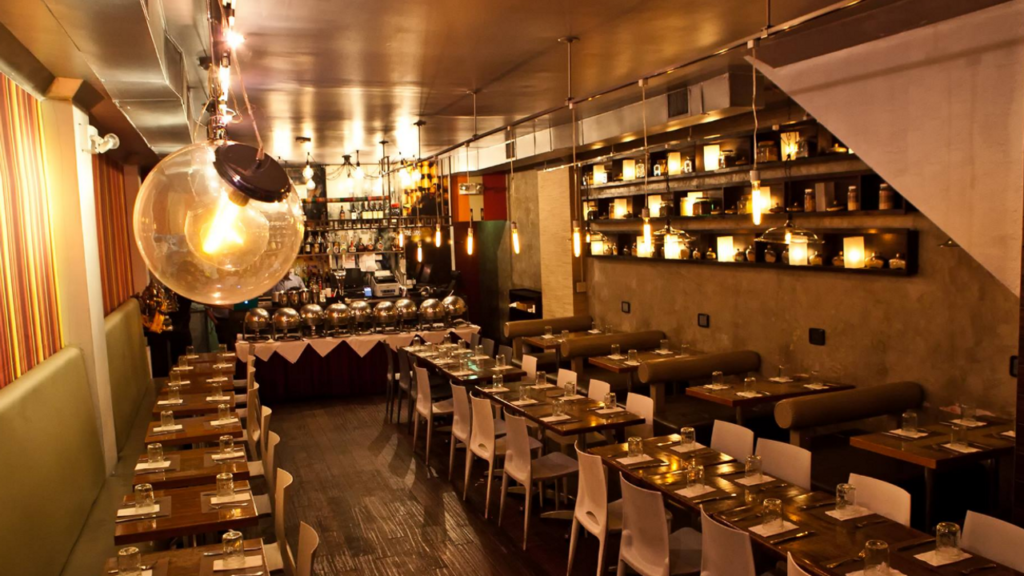 108 Lexington Ave, New York, NY 10016, United States
This is an authentic North Indian restaurant which serves North Indian food and kababs from the tandoor. There are a number of curries from "British Curry House" also served here. The restaurant is open till late night!
95 MacDougal St, New York, NY 10012, United States
Mint serves authentic Indo-Asian cuisine. MINT's All-You-Can-Eat buffet is the best for lunch. Happy hour specials offer a variety of drinks. The dinner menu is a harmonious blend of multiple food items namely Chinese, Thai and Indian. Both Non-vegetarian and vegetarian dishes are available. A variety of desserts like cheesecake, mango mousse or simply a cup of Indian masala chai are available here.
Best Trendy Restaurants in New York
Some restaurants conduct social events or live music concerts. They build their buildings with great interior architecture. Perfect maintenance, qualified staff, and delicious food are the three important aspects of a modern restaurant! Find a restaurant that you like the most and have a nice time! 
For more interesting blogs click A2Z Junction website