Best Mountain Bikes in USA
Wheel Size: b29-inch | Rear Travel: 147mm
Reasons To Buy
Well-balanced all-around performance

Confident descender

Efficient climber
The best all-around trail bike we've ever tried, the Ripmo V2 won over our testers. The suspension kinematics were modified to make it more progressive at the conclusion of the stroke, and the geometry of the Ripmo was revised to make it lazier and longer. The rear end is kept sporty by the short chainstays, and the handling is snappy and accurate. With its effective DW-Link suspension platform, sharp seat tube angle, and direct power transmission, the V2 maintains its exceptional climbing characteristics. With the Ripmo, one bike that can do it all and do it well, terms like "quiver killer" spring to mind.
A fantastic aggressive trail bike with outstanding uphill and downhill performance is the Ripmo V2. For the rider who wants a bike that climbs well without compromising performance on the descent, this one makes a lot of sense. We think that this bike is incredibly adaptable and would suggest it to just about anyone.
2.Specialized Stumpjumper EVO Comp
Wheel Size: 29-inch | Rear Travel: 150mm
Reasons To Buy
Stable and confident descender

Highly adjustable geometry

Adaptable for terrain or riding style

Plush FSR suspension

Increased SWAT storage
The new Stumpjumper EVO from Specialized is top-notch. One of the hardest charging trail bikes we've tried is this 150mm travel 29er with a 160mm fork. The updated FSR suspension platform is almost flawless, and this bike devours everything in its path as it descends. With a reasonably supportive pedaling platform and a nice steep seat tube angle, it climbs pretty darn well when pointed uphill. This bike's newly revised geometry is one of its most intriguing features. The bottom bracket may be raised or lowered by 7mm, and the head tube angle can be quickly and simply altered between 63.5 and 65.5 degrees in 1-degree increments.The rider now has six different geometry options to choose from depending on the terrain, riding style, and preferences. You can choose to set it up steep and high for regular trail riding or low and slack for doing laps at the bike park. Specializer's attention to detail and on-bike storage also continue to wow. You may avoid wearing a pack and stay hydrated thanks to the SWAT storage compartment's addition of a 20 Oz water bottle and a zippered tool sleeve that fits inside the frame.
Wheel Size: 29-inch | Rear Travel: 130mm
Reasons To Buy
Excellent climbing performance

Fun on nearly any trail

Incredibly versatile
The Yeti SB130 is a trail slayer with mid-travel that makes an excellent everyday driver or addition to your bike quiver. For a sizable portion of riders in various areas, this 130mm 29er makes a lot of sense. The Yeti has you covered, whether you frequently travel on quick, rolling flow trails or go on long backcountry excursions. This bicycle offers exceptional efficiency while positioning you for climbing. The rear wheel tracks quite well through challenging and difficult climbs and has outstanding climbing traction. It handles well and has great downhill performance. Except for truly enduro-grade tracks, the SB130 tears up practically any downhill with its aggressive angles and strong front end.
Purchase it if you want a well-balanced trail bike that climbs very well and becomes wild on the descent. The bulk of the singletrack is a perfect fit for the SB130. It's the ideal all-purpose bike.
Wheel Size: 29-inch | Rear Travel: 120mm
Reasons To Buy
Lightweight

Playful

Well-rounded

Modern geometry
Ibis just underwent a thorough redesign of the Ripley, their flagship 29-inch wheeled trail bike. Our favorite short-distance model before was the earlier iteration thanks to its exhilarating ride and unmatched fun. The most recent Ripley still has a lot of that playful attitude, but it is also a much more complete ride, with improved downhill performance and considerably more stability at high speeds. thanks to the Ripmo-inspired frame's longer reach and wheelbase, slackened head tube angle of 66.5 degrees, and steeper seat tube angle of 76.2 degrees. The Ripley no longer has a speed limit but still encourages pops and trailside impacts. Even though it continues to be constrained by its low travel numbers, it is also significantly more self-assured on steep and challenging terrain.
For the majority of riders, the Ripley is a very wise trail bike. This compact bike is equally adept at climbing and descending. It is the greatest all-around short-travel bike we've ridden and offers unrivaled versatility. It is a great option for lengthy bike rides since it strikes the ideal balance between comfort and effectiveness.
5.Santa Cruz 5010 CC XO1 RSV
Wheel Size: 27.5-inch | Rear Travel: 130mm
Reasons To Buy
Playful and fun-loving

Versatile, well-rounded performance

Outstanding build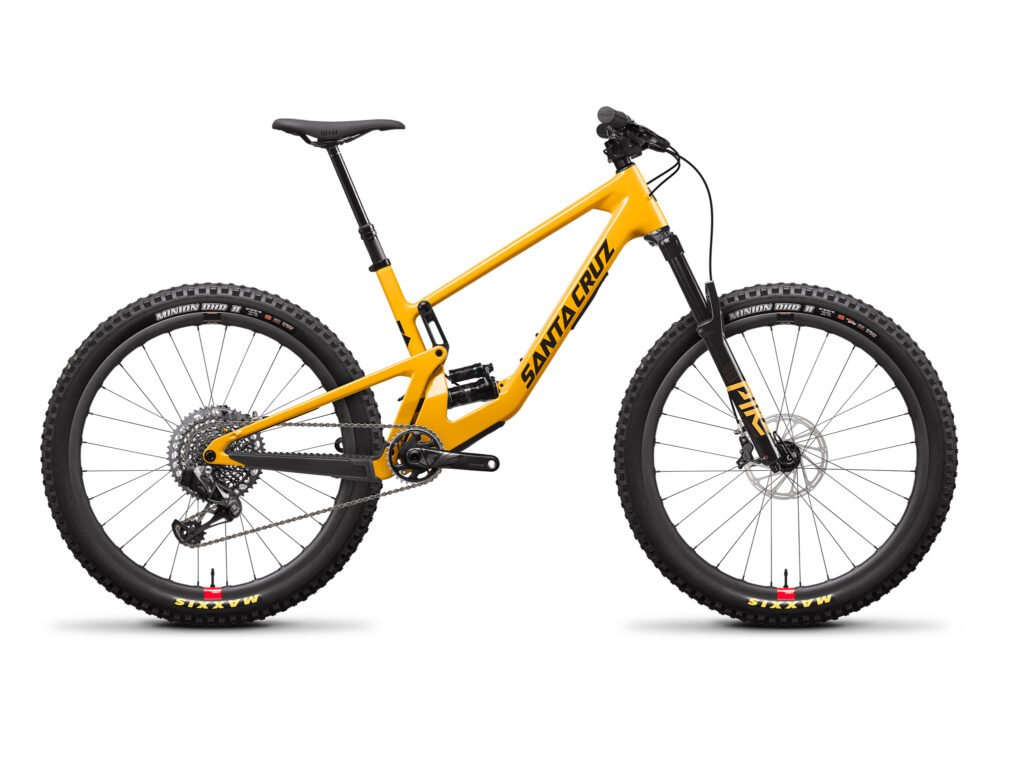 The Santa Cruz 5010 is a nice reminder that 27.5-inch wheels are still popular, despite the fact that they may not be as widespread as they once were. This recently updated mid-travel trail bike boasts 140mm of travel in the fork and 130mm of rear travel, and it runs on "fun-sized" wheels. Its modernized geometry makes it a confident and well-rounded descender with a uniquely animated and fun temperament, and it is in line with current trends. It is eager to lift the front wheel off the ground due to the smaller wheels and short rear center, and the supporting VPP suspension design gives a good starting platform. Its excellent deep stroke performance gives it the impression of having more travel than it actually does. The rider is set up in a stable climbing position thanks to the stable pedaling platform and the sharp seat tube angle. Flip-chips in the lower shock mount also let you slightly modify the geometry to suit your tastes. Although fairly pricey, the XO1 RSV build we tried is excellent.
There wasn't anything about the new 5010 that we didn't like. It is important to keep in mind, though, that smaller hoops don't carry momentum as effectively as 29-inch wheels do, and they can hang up slightly more readily in rock gardens and tricky terrain. The flip-chips are also pretty difficult to use, although most riders won't be modifying them very frequently. The 5010 is a great alternative to take into consideration if you like smaller wheels or just like to convert every path into a playground.
Wheel Size: 29-inch | Rear Travel: 135mm
Reasons To Buy
Well-rounded performance

Affordable

Versatile

Great build for the price
With a price tag of around $2,500, the Polygon Siskiu T8 is the greatest bicycle we've tried. This reasonably priced mid-travel trail bike has a 140mm fork and a 135mm rear wheel travel. It has 29-inch wheels. Modern requirements are satisfied by the Siskiu's shape, which results in a performance that is both well-rounded and adaptable. It is a smooth ride that is accommodating for riders of all skill levels and pretty laid back.This bike is suitable for both inexperienced and experienced riders. It has responsive handling, is agile, stable at high speeds, and inspires confidence when descending. For any length of ride, the Siskiu is a capable climber that is comfortable and efficient. The Siskiu's distinctive construction is perhaps its most stunning feature. This bike performs better on climbs and descents because it is very well equipped for the price.
Our criticisms of the Siskiu T8 are limited, especially given the affordable asking price. The saddle, grips, and touchpoints on this bike are where we have the most complaints. The grips are really thin and stiff, and we'd probably swap them out right away for something a little cozier. Similar to the handlebars, the saddle is oddly shaped and has a pointed tail that could catch on shorts or prick you in the pelvis on a fast downhill. Apart from that, there isn't much to dislike about this incredibly versatile and reasonably priced mid-travel trail bike.
Wheels: 29-inch | Rear Travel: 120mm
Reasons To Buy
Excellent climber

Balanced suspension

12-speed drivetrain
It climbs energetically and effectively, and while riding it, our testers recorded some of their best uphill times ever. The Stance demonstrated its comfort and capability on the descents, and the suspension seemed balanced. We think the bike is a fantastic value because the component specs are excellent quality for the price.
The Stance has not caused us any significant problems. The lack of a dropper seatpost, which would, in our opinion, greatly enhance this bike's downhill performance, We believe that a set of tyres that are more substantial would improve performance overall because the stock tyres are fast-rolling and passive. Other than that, we think this is a fantastic entry-level full-suspension bike for riding in general. Depending on your taste, 27.5-inch wheels are also an option.
8.Specialized Fuse Expert 29
Wheel Size: 29-inch | Fork Travel: 130mm
Reasons To Buy
Excellent all-around performance

Confident descender

Dialed geometry
After the release of the 2020 update, the Fuse Expert 29, the Specialized Fuse has maintained its position as our favorite hardtail for a very long time. The Fuse has recently had a complete makeover, has new geometry, and is now available with 29-inch wheels. Every tester was impressed by how well-rounded its performance was. It has a clean, contemporary geometry that isn't garish. It is confidence-inspiring in turns, in the air, and while tearing down relatively chunky rock gardens while remaining stable at high speeds. In the hills, it's far from an XC race bike, but it has a supportive seat, a 12-speed gear, and a sticky 2.6″ rear tyre that offers superb traction.
With a weight of almost 30 lbs for the size we tested, the new Fuse 29 is hardly a lightweight. There are undoubtedly charging solutions that are more powerful, lighter, and even tougher. However, none of the other bikes we examined can compare to the new Fuse Expert 29's performance, which is all-around, adaptable, and wildly entertaining.
Tire Size: 27.5×4.5-inch | Fork Travel: 80mm
Reasons To Buy
Front suspension

Dropper post

Well-rounded
A suspension fork and dropper seatrout give the Trek Farley 7's well-rounded performance and a high level of build quality. This adaptable bike is at home logging miles on packed single-track, groomed trails, and even some dirt trails thanks to its middle-of-the-road shape, which performs well on both climbs and descents. In the snow, sand, and mud, enormous 4.5-inch Bontrager Gnarwahl tyres offer tons of traction for both climbing and descending. However, on the descents, where it feels more like a mountain bike than the competitors, the Farley 7 distinguishes itself from the competition. The dropper post lowers the saddle and moves it out of the way so you can maneuver around the bike while the 80mm of front suspension aids soften the impact of hard snow or chunky rocks. Compared to the other fat bikes we examined, this one is much more capable and enjoyable when riding on dirt trails and in variable weather.
At 36 lbs. and 11 oz., the Farley 7 is not lightweight. It is not the best option for racing because of its weight, which can be felt during hills or lengthy rides. Nevertheless, considering how much fun we had riding this bike, we didn't mind the weight too much. We believe the Farley 7 is a good option to consider if you're looking for a fat bike.
10.Specialized Turbo Levo Comp
Wheel Size: MX (29″ front, 27.5″ rear) | Rear Travel: 150mm
Reasons To Buy
Powerful motor

Versatile, highly adjustable geometry

700Wh battery-great range
After the Stumpjumper EVO had improvements for the 2022 model year, the Turbo Levo Comp Alloy also underwent changes. Similar to the non-powered Stumpjumper, Specialized designed the Levo with a highly adaptable geometry that enables the rider to dramatically change the bike's characteristics to suit their riding style, riding preferences, and riding conditions. You can configure it as a more agile trail bike, an aggressive gravity-oriented slayer, or anything in between thanks to the six different geometry configurations available. This bike's versatility is greatly increased by its unheard-of degree of adjustment, which truly puts it in a league of its own. It has mixed wheel sizes, a 160mm fork, and 150mm of rear wheel travel for a secure front end and mobility out back.The Turbo Full Power 2.2 motor from Specialized has three adjustable degrees of pedal assistance and a robust 90Nm of torque and up to 565 peak watts of performance. The downtube of the frame houses a 700Wh battery, giving it a great range. The entire system has been fine-tuned and well-integrated, with balanced weight distribution for a comfortable ride.
The Comp Alloy comes with a functional construction and is one of the more affordable Turbo Levo designs available, but it has a few flaws. The GRID TRAIL casing tyres aren't as durable as we'd like them to be for the weight of this hard-charging bike, and the SRAM Code R brakes aren't even close to being our favourite. The integrated TCU display on the top tube is also relatively simple, though newer, higher-end models come with a more sophisticated system. Finally, even though Specialized has a large battery capacity of 700Wh, other companies have just exceeded it in the race for range. Whatever the case, we believe the Turbo Levo to be one of the greatest and most versatile electric mountain bikes available today. Its flexible shape increases its adaptability to another level.